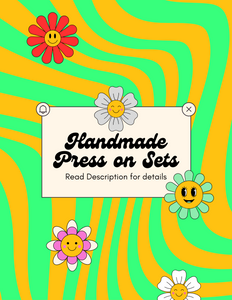 💚 Choose your options for your set and follow the instructions in your email for custom orders. - Bella :)
📌Remember to send me your inspo pictures and order number to my email: bellasbombs2@gmail.com for your CUSTOM SETS❗️❗️. If you do not send me your inspiration, AND fill out the textbox above with size and shape of your sets, your order will not be accepted after 24 hours. 
Every set includes, but not limited to: FREE prep kit which includes alcohol wipe, cuticle tool, buffer/file, free nail glue as well as the option of gel applicator stickies and free goodies💚
⭐️For all other sets add in your purchase comments the size and color you want or email me with the email mentioned above along with order number ! 
DISCLAIMER: all sales are final❗️